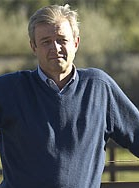 Kenneth 'Ken' Walter Davis Senior Father of Dani and Junior . He ran Davis Farms until being indicted on six counts of fraud, which forced him to leave Davis Farm and his assets to his children and, in a series of events, lost his role as majority shareholder to Dani. After being acquitted of all the charges, Ken bought back 46% of Davis Farms. Out of all the romantic relationships that Junior and Dani ever had, the only one that Ken didn't hate was Junior's relationship with Laura Nichols , the daughter of a a congressman.
Ad blocker interference detected!
Wikia is a free-to-use site that makes money from advertising. We have a modified experience for viewers using ad blockers

Wikia is not accessible if you've made further modifications. Remove the custom ad blocker rule(s) and the page will load as expected.